What is Scrim?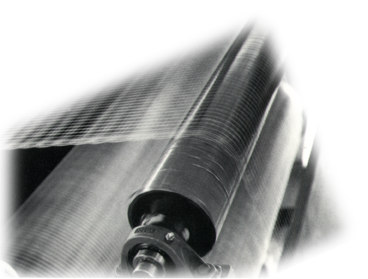 Advanced Technology
Scrim is a simple product of advanced technology. A web-like product, scrim's fibers are chemically bonded. Scrim is superior to other fabrics because the fibers are not crimped by weaving, they can be joined at a greater variety of angles, and scrim can be produced at far greater speeds. Scrim is strong, flexible, and can be fire retardant.
Capabilities Tailored To Your Needs
Originally developed as reinforcement between paper layers in packaging material, scrim has proven to be a versatile product with diverse custom applications.
It's the right material for reinforcing many industrial products like roofing, carpets, air-ducts, filters, tape, laminations, and the list goes on. You may have a product that could benefit from scrim versatility.



---
HOLIDAY TALK / Tom Holliday

---

NonWoven Scrim Fabrics
NonWoven scrim fabrics are probably the most underestimated of all nonwoven materials. The wider range of physical and chemical capabilities that can be designed into them has frequently been neglected by engineers and product designers alike.

Loosely woven. open structures were historically the first scrims; they were used as curtains. shade cloth, wallpaper backing and bunting. Originally nonwoven scrims mimicked their woven predecessors: however, with advanced technology nonwoven processes can create densely packed structures and place yarns in angles looms can't typically accommodate. Commercially, yarn density (yarns per inch in one direction) in nonwoven scrims ranges from one to 20 per inch, however, the volume of nonwoven scrims falls in the one to 10 yarns per inch category. Theoretically, nonwoven scrims ran reach the packing density of the yarn since there is no interlacing to interfere with yarn placement. Although many scrims are produced with yarns at right angles (as in woven structures). nonwoven processes can place yarns at various angles and can lay down multiple layers of yarns with various orientations (Illustration 1).

Although there are exceptions, the basic difference between a woven fabric and a nonwoven scrim is that weaving requires a classic under-and-over interlacing, whereas in nonwoven scrims the yarns lay on top of each other and are held together chemically. One of the most significant differences is the "straightness" of yarns in nonwoven scrims. In the nonwoven, yarn properties are translated more directly into fabric properties since the "uncrimping" uncrimping" elongation and yarn/yarn friction associated with woven geometry are largely absent. Naturally, bias behavior is also very different since yarns in nonwoven scrims are usually locked in place and can't collapse in the way a classic woven lattice does (Illustration 2)

Production speed also differentiates woven from n woven scrims. The majority of nonwoven scrim machines run at 25 to 150 ft. a minute In addition, nonwoven scrim lines are frequently used in line with other processes such as extrusion or laminating, a feat rarely if ever accomplished with a loom: this equipment can run in excess of 500 ft. a minute. Nonwoven scrim equipment can also be more flexible than looms; minor change overs in warp (machine direction) yarn count or lion can be accomplished in three hours.


Scrims Offer Many Applications

Typical chemistries for the binders used to lock scrim yarns in place include polyvinyl alcohol. polyvinyl acetate, and butadiene styrene. Thermal bonding has ervtered the picture recently through both heat activatable binder systems such as Dow "Primacore" and thermo plastic bicomponent yarns. Heat is used to hold the scrim together initially and to reactivate the scrim for bonding in subsequent processing such as laminating. Development work is also underway with sonics and print bonding as well as with other nonconventional yarn joining techniques.

Most nonwoven scrims use multifilament yarns of polyester, noon, glass, rayon or polypropylene. Multifilament yarns are available, cost effective. relatively easy to process. tend to spread out and provide a desirable "flat" profile. and provide good translation of polymer propertic-, to yarn form. Monofilaments are used, but their relalive stiffness can create processing problems such as low binder adhesion.

Reinforcing tape is one of the largest end uses for nonwoven scrims. The flatness or lack of bulk and the excellent yarn translation efficiency nonwoven scrims provide give strength and stability to paper and film tapes. This application normally uses glass multifilament.

Other markets consume well in excess of 100 million yarns of nonwoven scrim. Current prices for nonwoven scrims range from $0.04 to $2.50 depending on construction, composition, and quantity; a minimum of 100.000 yards per order may be necessary to secure delivery. Nonwoven scrims provide strength and stability to other nonwoven, film. paper and textile materials. These reinforced materials rind their way into automotive, agricultural, hospital and medical, building trades, civil engineering, filtration and various apparel markets. Logicat extensions of current marketing strategies include more sophisticated roofing pro-ducts, new constructions for coating substrates, innovative approaches 10 separation and filtration. packaging and containment lechnolo gies, and synergistic approaches to civil engineering.


Nonwovens Industry - August 1985